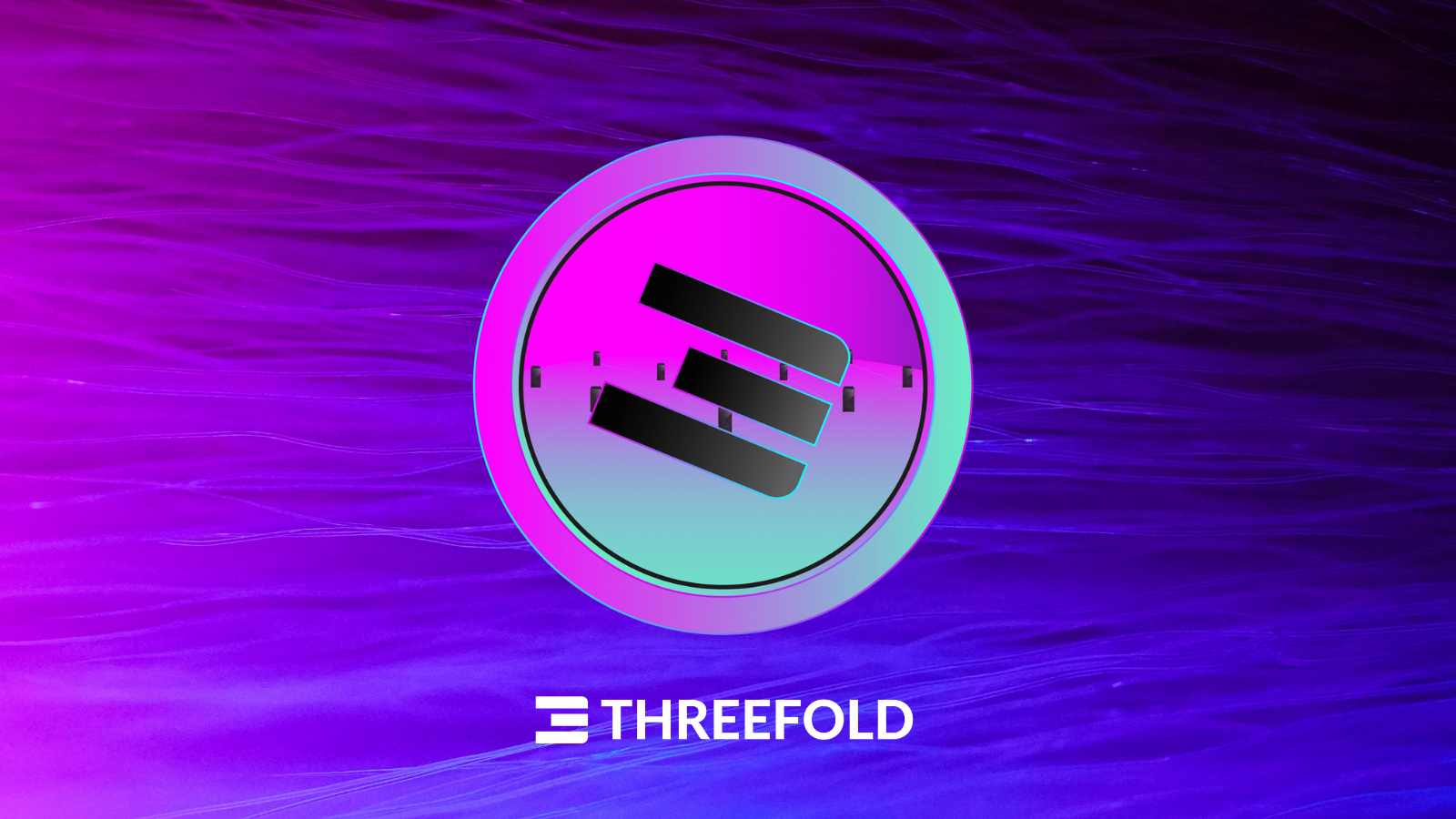 The blockchain space is flooded with many coins and tokens. So today, I'd like to share with you what makes the ThreeFold Token (TFT) unique and valuable, and why we believe its potential is going to unfold in the not so distant future. Here we go!
If you're new to ThreeFold, I recommend giving our "ThreeFold Token for Beginners" page a read.
Quick recap: What is TFT?
Let me start by emphasizing that we're not a crypto project, we're an Internet infrastructure project building the People's Internet together with the community around the world. TFT is our native utility token, and as such, is backed by the continuous growth of the ThreeFold Grid.
Generally speaking, utility tokens are created to give digital access to specific products or services. While they do provide value in different ways, they cannot be considered "money" as directly as coins can be.
As the utility token and medium of exchange of the ThreeFold Grid, TFT supports a truly decentralized Internet for all and is leveraged to access and scale our open-source peer-to-peer Internet infrastructure.
Learn more about why TFT is for Internet Capacity what Bitcoin is for Money here.
Limited supply and scarcity mechanisms
First of all, the supply of TFT is limited to a total number of 4 billion. New TFT are only minted when new Internet capacity is added to the ThreeFold Grid – we call this concept of expanding the People's Internet by connecting capacity farming.
At the same time, burning permanently removes TFT from the circulating supply to incentivize the long-term growth of the ecosystem, as this ensures scarcity and continuous farming rewards for current and future nodes. Burning will increase proportionally as the utilization of the ThreeFold Grid grows.
Also, many existing token holders expressed their confidence and support of ThreeFold by deciding to vest their TFT in spring 2021, further limiting the number of TFT circulating.
And there are more factors potentially reinforcing TFT scarcity. As @michaelww mentioned in his comment below, chances are that a growing number of token owners will hold onto their TFT – because they expect the token to rise in value and/or to receive staking-based discounts on purchasing Internet capacity. Additionally, there will be staking yields for validator and executor nodes in the future.
Visit our wiki to dive deeper into our tokenomics. Thinking about becoming a farmer and earning TFT for contributing capacity? Visit our forum's farming section or take a look at our wiki.
The potential and value of TFT
Now, let's dive into the potential of the ThreeFold Token. In a nutshell, TFT is the currency of the People's Internet! It's our way of incentivizing an open ecosystem where anyone can connect and utilize Internet capacity without any intermediaries.
There is a direct link between the size and utilization of the ThreeFold Grid and the value of TFT. As utilization of the ThreeFold Grid increases the ThreeFold Token will unfold its potential and flourish as the currency of the decentralized Internet. With the launch of Grid 3.0 on mainnet, our Internet infrastructure is now ready for production, so we're currently onboarding partners like DigiThree, ownCloud, TAG and CasperLabs to our open-source peer-to-peer infrastructure.
The growing utilization of the Grid combined with the previously mentioned burning and scarcity mechanisms will trigger basic supply-and-demand mechanisms. The limited token supply will meet a rising demand for TFT to buy and reserve current or future Internet capacity and services on our Grid, creating a natural economic demand.
ThreeFold is not only for believers in open source and decentralization. ThreeFold, and TFT, are needed. The current centralized IT stack is simply not capable of supporting increasing data demands and emerging technology trends. So, a new decentralized edge infrastructure is needed. By the end of Q1, the ThreeFold Grid will be able to host any blockchain, metaverse, IoT and Web 3 application.
For more details on the value of TFT and how to get TFT, visit our wiki.
What you can do with TFT
Basically, buying TFT means getting access to an entirely new decentralized Internet economy. TFT allows people to hold current and future Internet capacity on our ThreeFold Grid, and is the first utility token that can represent either a unit of decentralized compute, storage or network.
Developers, users, enterprises – TFT enables everyone within the ThreeFold ecosystem to store data, to build applications, to create weblets and much more on top of the People's Internet. For a better idea of what you get with one TFT, take a look at the image below and visit this page.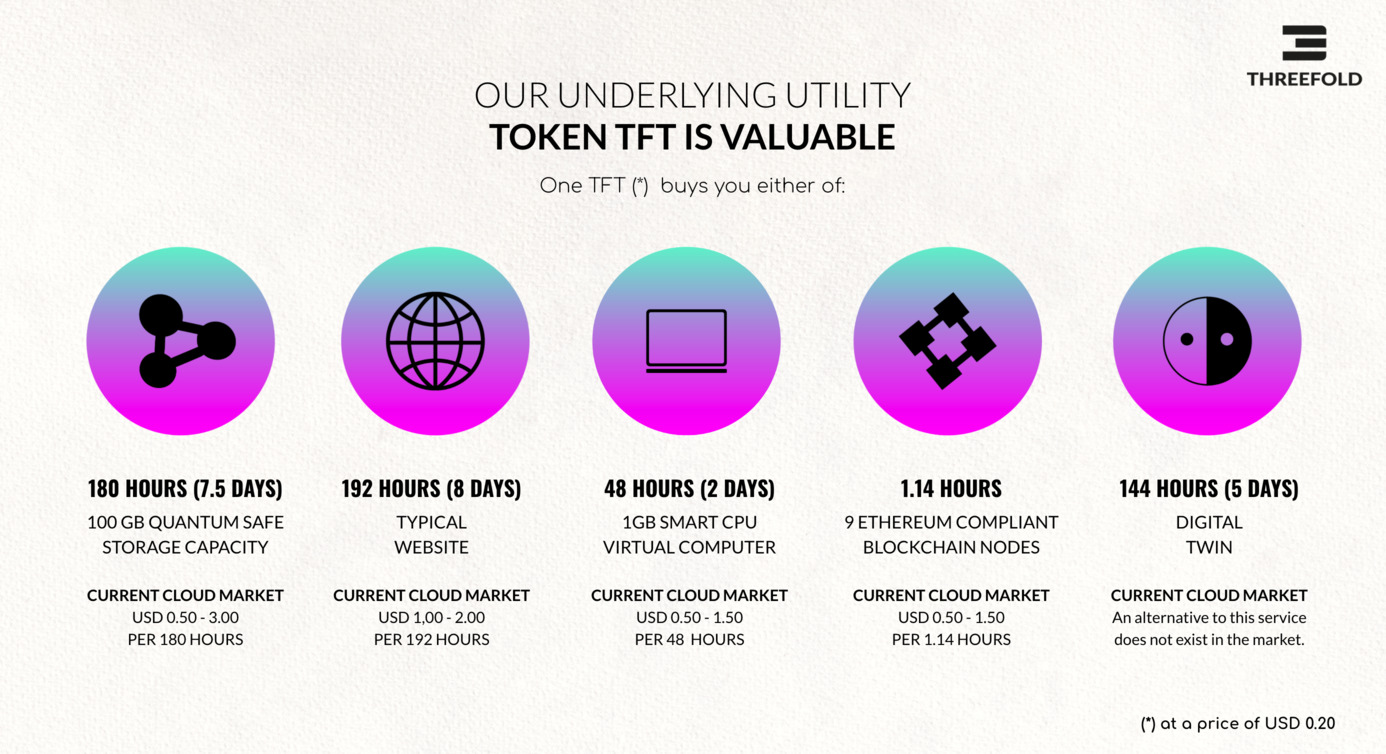 If you haven't done so yet, I encourage you to read this amazing "oldie but goodie" blog post by Adnan to find out why the world needs a new stable and green digital currency.
What's next for TFT
One of our goals for 2022 is to make the ThreeFold Token available at as many entry points as possible. Currently, TFT is already available on three blockchains – Stellar, Binance Smart Chain and TF Chain. We're also working on further bridges to connect many more external networks to the ThreeFold ecosystem, e.g. we're working on an integration with Cosmos.
In addition to that, we've just released a solution to make it even easier for people to get TFT. Now, anyone is able to buy TFT directly with BTC via https://gettft.com/ or this direct buy link! And a similar solution for fiat will follow.
We believe in the potential of TFT. And we're getting acknowledged for what we do. Crypto Daily just called ThreeFold a hidden gem that "every crypto investor and tech enthusiast should deep dive into" and the InvestorsObserver recently gave TFT a "very bullish" rating.
Ready to join the People's Internet and put your TFT to use? Share your thoughts in the comments below. I'm looking forward to seeing how you're planning to use your TFT!
Also, here's a brief list of great resources on TFT, so check them out if you haven't already!
Test the TFT & TF Grid Growth Simulation and let us know what you think here.
Watch the recording of our Deep Dive Session

#2

on Tokenomics and more.
Visit our knowledge base on all things TFT.
Please note that the ThreeFold Token (TFT) is not an investment instrument. TFT represents IT capacity on the ThreeFold Grid, farmers create TFT, developers use TFT. Also, this is not investment advice, everyone is free to make their own choices. So, do your own research and read our disclaimer.