Hi there!
Just for fun and to try and predict where TFT could go, I write this post.
Here is a chart from Threefold from https://threefold.io/tft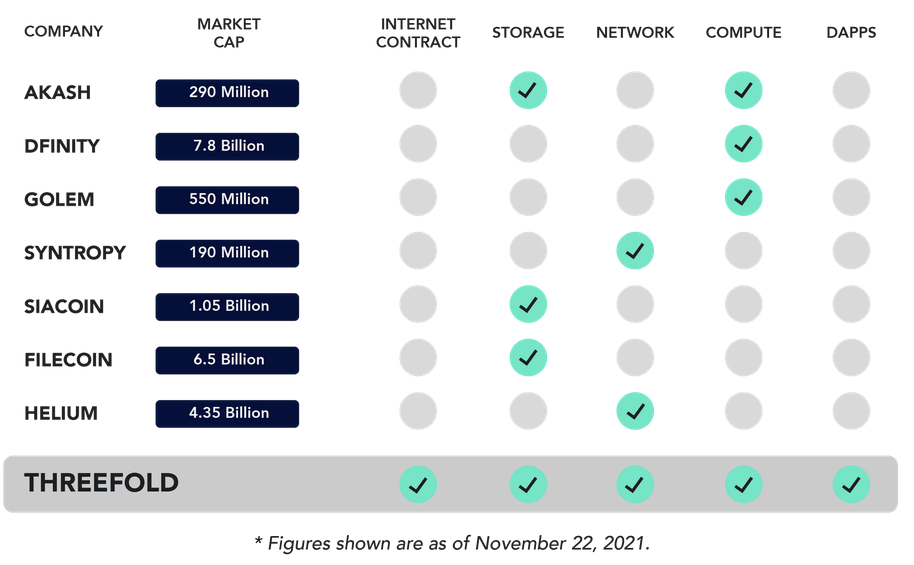 Here you can see that Threefold provides Internet Contract, Storage, Network, Compute and DAPPS. This is interesting if you consider that the "competitions" (or rather potential collaborators as some here would say!) only have one or two of those 5 services. Threefold has it all here!
So here is a fun thought experiment. What would be the price of TFT with the market cap of some of these "competitors"?
I used the fun website https://www.marketcapof.com/ to explore such thoughts.
I entered the current Threefold Total supply of 476,220,974 tokens. This is not a rigorous analysis obviously. But I'd be curious to know if others could come up with different methods that would make this thought experiment more realistic.
Here we go!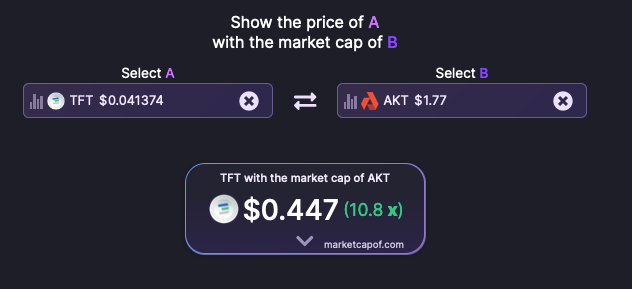 We can see that TFT with the market cap of Akash would be standing at 0.447$.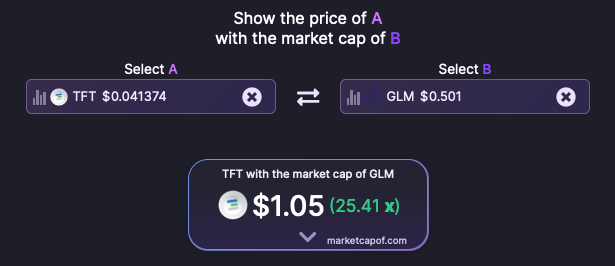 We can see that TFT with the market cap of Golem would be standing at 1.05$.
Those two next pictures are very interesting. As stated in the document of the Threefold community, the cloud business is a big business and it would be quite possible that Threefold, gaining great traction, would build a billion+ dollars business.


In the last two pictures, we can see that TFT with the market cap of Filecoin and then Internet Computer, the price would be at 10.62$ and 11.48$, respectively.
Of course, this calculation is not the future, nor would it represents the real price of TFT if it had this market cap, as we are in a free market and other parameters would most likely come into play! It's really to ponder on the future of TFT and have some fun.
It's amazing to see that Threefold combines the services of those projects, all in one place, while at the same time being quantum resistant and infinitely scalable! Amazing project that is!
So, let's get the conversation going. What do you guys think of all this? Does it make sense to predict such numbers? Do you think TFT will have such a market cap in the following years?
If so, what would be needed for Threefold to get there? Marketing? Simply some more time? Or maybe the release of the great DAPPS coming our way? Let us know what you think!
I think Threefold is building an amazing project with a great community behind it all.
Thanks for reading and I hope you are doing great in this era of change and innovation!
As some great mind once said:
Let's do it!