Mastodon Servers Powered by ThreeFold (Sneak Peek)

Hi ThreeFold Community!
My name is Sasha from ThreeFold's Product Management, and I am back to giving you updates on ThreeFold Products this week.
This time I would like to focus on the upcoming
Mastodon Servers Powered by ThreeFold
.
If you have been following our updates, including community discussions recently over the past month, we have been preparing our own Mastodon Server deployer. We are aiming to make it possible for everyone to run their own Mastodon server, simply and effectively on top of the ThreeFold Grid.
What is Mastodon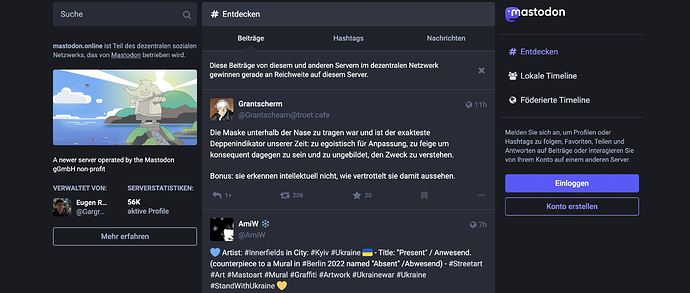 Mastodon
is free and open-source software for running self-hosted social networking services. It has microblogging features similar to the Twitter service. Mastodon that are deployed by a large number of independently-run nodes, are known as
instances
(also called a '
servers
'); each existing with its own code of conduct, terms of service, privacy options, and moderation policies.
Each user is a member of a specific Mastodon server, which can interoperate as a federated social network by plugging into the Fediverse, allowing users on different servers / instances to interact with each other. This is intended to give users the flexibility to select an instance whose policies they prefer, but keep access to a larger social network.
What is Mastodon Servers Powered by ThreeFold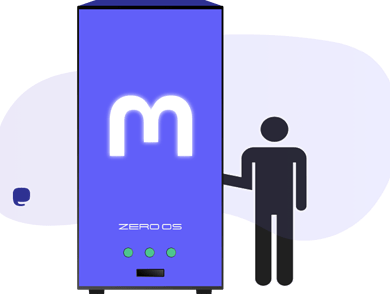 Mastodon Servers Powered by ThreeFold are servers that are deployed on the ThreeFold Grid via ThreeFold's Mastodon Server Deployer. It's a web application that will enable anyone to deploy and manage their Mastodon within a few clicks. It will be launched soon this month, as a part of TFGrid v3.8.0 launch. At the moment, the teams are finalizing the tests on the MVP and reviewing written manuals and documentation to make sure we provide users with the best experience possible.
Feature Highlight
Here are some of the highlights of the upcoming Mastodon Servers Powered by ThreeFold.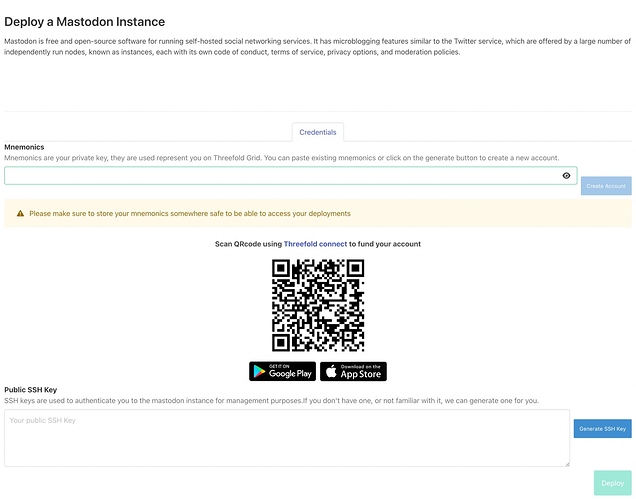 Straightforward Web Application (desktop)
Users will be able to deploy their own Mastodon Servers on their desktop by using a web-based deployer. There is no need to install a program or app.

All-in-one Deployer, Wallet, and Server Admin Panel
Within one web app, you will be able to use / access three features: the Mastodon Server deployer, account wallet, and Mastodon server manager (admin panel) with lists of active servers you have deployed.


Simplified Deployment Account Signup and Login
Tired of the centralized way of signing up for an account on the internet? Us, too! Our Smart (blockchain) Contracts for IT has made it possible for users to sign up for a deployment account by simply generating Mnemonics as your login Key. Mnemonics are unique random phrases that are auto-generated as the key to enter your deployment account. For existing users, all you have to do to log in is to provide the mnemonics you've used previously.


QR Code Scan for Wallet Top Up
Fund your deployment wallet easily with TFTs by scanning the payment QR Code via TF Connect App or your preferred TFT Wallet.

Choice between Basic Server Setup and Advance Server Setup
You can simply choose whether to deploy a server with only using basic setup, or with both basic and advance setup.


Basic Setup: Mastodon Server deployment setting with pre-configured deployment setup (Admin credentials, capacity, and network settings are pre-configured)

Advanced Setup: Mastodon Server deployment setting for users who prefer to choose their own deployment configuration (Admin credentials, capacity, and network settings are manually determined by users). For this you still need to configure some variables like admin email and deployment name before configuring the advance setup.


Straightforward Admin Panel
In-app admin panel with list of active Mastodon Servers you have deployed make it easier for admins to manage their deployments.
That's a Wrap
We can't wait to show you the real thing ourselves, very soon. I personally have tested it myself, it feels that deploying Mastodon could not be easier and more simplified than this. Stay tuned for the official launch of the product for you to try!
We'd like to also invite you to join our TFGrid Tester Community telegram channel to meet other community members, test our products, receive new product updates and announcements, ask questions, and start some conversations on our new improvements, and many more.
Love and Gratitude,
Sasha Astiadi
ThreeFold Product Management
Let's have a quick poll for fun then, would you rather?? …
I want to create my own Mastodon Server using Mastodon Server Deployer
I prefer to join ThreeFold's Official Mastodon, or maybe other community member's Mastodon Servers