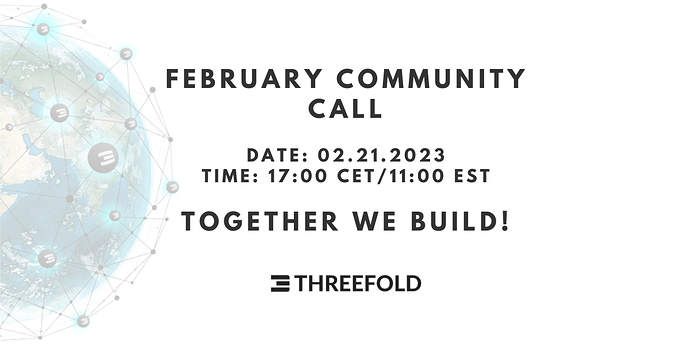 Call Link: Here
February Community Call: Questions from the TF Members
Hey you! Are you down for the next Threefold Community Call?
It's the perfect time to ask questions you may have about the project.
You are invited to write questions. We will gather them in a list here for organizational purpose.
The Questions from the TF Members
Is it on the roadmap to be able to pay for Threefold deployments in BTC, instead of TFT?
Considering this GEP on Green Farming, what are the next steps that need to be taken to move forward? How can I or others that are interested in this topic be of any help?
Concerning the farmer bot, what is the procedure if you want to test it, we have applied in the forum, can we already prepare something, or when will we get instructions?
Does ThreeFold fall under the concepts of a Software Defined Data Center (SDDC) a.k.a. a Virtual Data Center (VDC)? Or does ThreeFold go even beyond these concepts?
How does the ThreeFold project positions itself against f.e. the OpenNebula project, which in the end is a middleware solution? What are the differences between the ThreeFold project and the OpenNebula project? Can both projects do something for each other? Can we learn from this project, how they handle certain problems (tech-wise)?
What is ThreeFold's opinion about Solid? How does it fit or could it be implemented in the Threefold ecosystem?
Imagine a server with a HDD of 16TB in the QSFS goes offline, how long doest it take to rebuild this 16TB on another or multiple other servers? How is it done?
If I would do a (bandwidth) DDOS attack on a server, could it impact other people using the same infrastructure?
How does ThreeFold use ReedSolom ECC differently from systems like Google's Colossus?
What is meant by 20x less overhead compared to classic systems? Which classic systems exactly?
I have read that: Threefold DMCC (Dubai) is planning to acquire up to 300million TFT." Can you provide more info on this please?
---
Got a question? Post a reply with your questions and we will cover them in the next call.
Thanks!