This post is for new Titan owners, covering the setup process and many common questions. So, first off, let me welcome you to the ThreeFold farming community. As a farmer, you are an important contributor to and stakeholder in the ThreeFold Grid. If you haven't already, I encourage you to join our farmers chat group on Telegram for announcements, updates, and discussion with other farmers.
Setup
The Titan is a "plug and farm" node, which means that setup should be as simple as connecting power and a wired internet connection. Once you've done that, push the power button and give the device a few minutes to boot up.
Next, go to the Grid Explorer to check that your node is online. You'll need your farm name for this, which you filled into a form we provided before your node was shipped, or your node id. You can find your node id by connecting a screen to your Titan and look for the line that begins "This is node…" (your node id is the following string of letters and numbers printed in green).
For help retrieving your farm name, contact our support team using the blue chat icon in the bottom right corner of this page and provide your order number or email address used to order.
Type your farm name or the first few characters of your node id into the search box:

If you see an entry here with status "up", that means your node is online. Congrats! You can skip to the FAQs below for details on minting payouts and other things you might be wondering about.
If nothing shows up, try switching the toggle button to the right of the search box to show offline nodes. For an offline node, continue to troubleshooting below. Otherwise, no results could mean that the fame name you entered is different than what's in the system. Contact support for help in that case.
Troubleshooting
Check ethernet connectivity
Before we investigate potential issues inside the Titan, we first ask that you verify there is internet connectivity on the ethernet cable you are using. To do this, connect another device like a laptop and check that you're online. If not, try another port on your router or another cable. Try rebooting your router too.
Once you know you have a live ethernet cable, try firmly seating it in the Titan's port again and reboot the device using the power button. Wait a few minutes again and check the explorer.
Connect a screen and look for errors
The Titan has an HDMI port that can be connected to a monitor or television. If you're able to, connect the Titan to a screen and boot it with the ethernet cable still connected.
For your reference, this is what shows on screen when Zos successfully boots: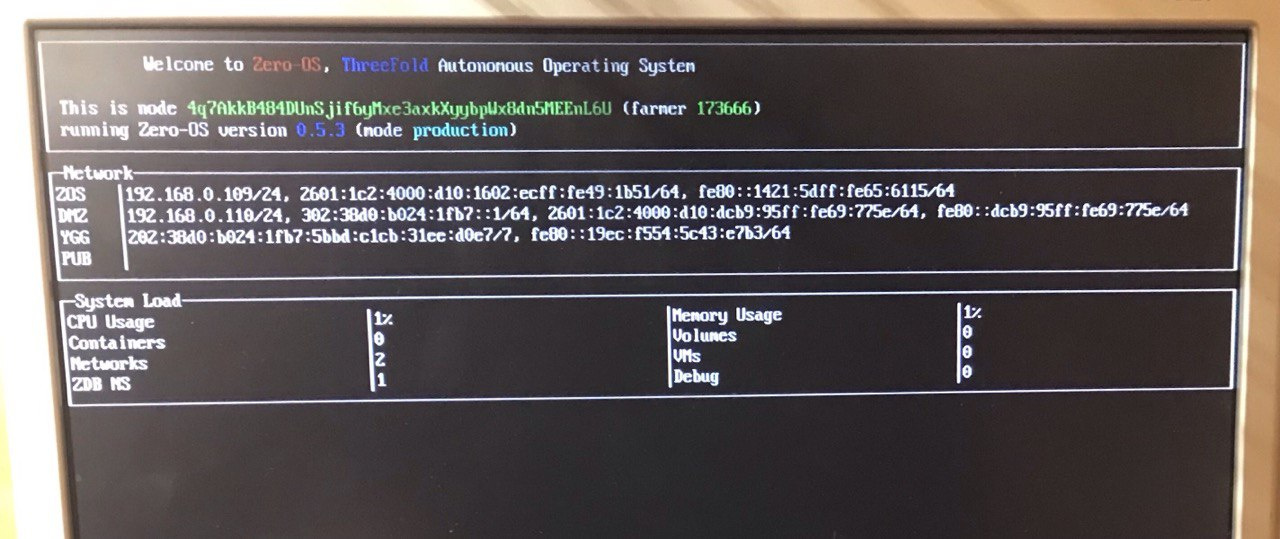 Should nothing appear on screen, try verifying that the HDMI cable and screen work with another device. At this point, you'll need to reach out to support for further assistance. If you see any errors on screen, take a photo of what you see, and include that photo with your support request.
FAQ
When and how are rewards distributed?
TFT are minted and distributed to farmers at the beginning of each month, usually by the 5th day of the month. They will be sent to the wallet address you specified on the form before your node was shipped. For help checking or updating your wallet address, contact support.
Do I need to farm a full month to earn tokens?
No, your first month of farming will be prorated according to how many days into the month your node came online.
I don't see any HRU for my node on the explorer. Is that normal?
Newer Titans have a larger solid state disk in place of the hard disk that was included in older Titans. If your SRU is 931, you have the larger SSD and no hard drive, so it is normal to see no HRU.
What happens if my node goes offline due to a power or internet outage?
If you node goes offline briefly, that's no problem and you'll still farm tokens for the whole month. Titans are setup to return to normal operation after a power outage, so no intervention should be required in that case. The Grid implements a monthly uptime requirement, so if your node is offline for an extended period of time, you may not farm any tokens for the month.
Why are the numbers reported under "Resource units reserved" on the explorer or under "System Load" on screen either zero or very low?
Your node only executes workloads that have been provisioned and paid for by someone utilizing the Grid who specifically chooses your node. That means zero or low values are normal when your node first boots up.
Why does the Titan create two connections on my router?
Zero OS is configured to use two physical network interfaces on servers which support it. This provides a separation between Zos functions and the public facing functions of hosted workloads. When Zos runs on a system with a single network card, it creates a virtual interface to take the place of the second physical interface. That's why you see two connections in your router settings
Some farmers with single network card nodes may want to place that second interface in their router's DMZ to offer inbound connections from the public internet to workloads on their nodes. This is by no means a requirement and does not impact farming rewards. For farmers at home, we don't recommend any changes to your router or firewall settings, just "plug and farm"
If you're curious about the details of Zos networking, you mind find this documentation page interesting.