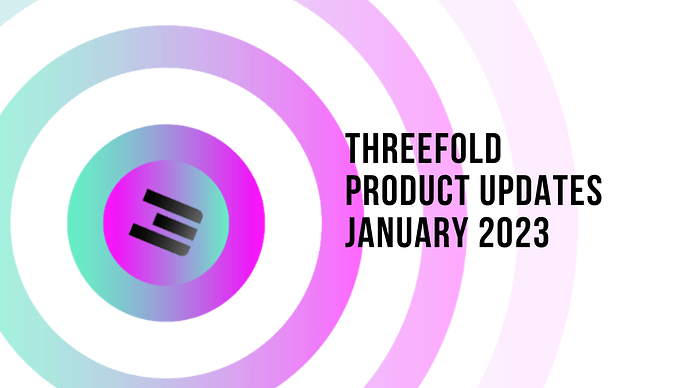 ThreeFold Product Updates - January 2023
Hi ThreeFold Community!
First of all, happy new year! This will be my first post on 2023, and more to come

My name is Sasha from ThreeFold's Product Management, and I would like to give my first product update of the year - ThreeFold Product Update - January 2023. Let's take a close look on what the development team has accomplished, and what we are still working on to complete so far.
Upcoming Release of TFGrid v3.8.0
TFGrid v3.8.0 is officially feature complete. The version is currently undergoing an immersive QA process. Depending on our QA test results, It is expected that the TFGrid v3.8.0 will be released on testnet within the next two weeks.
TFGrid v3.8.1
We have also been, in parallel, planning and implementing TFGrid v3.8.1 upgrades and improvements. Some important new features and improvements of TFGrid v3.8.1 will include many essential solutions and improvements requested by our community, as described in the highlights below:
Farmerbot
This is a feature that evolved from a previous feature request that existed, and announced in the previous sprint of TFGrid v3.8.0 plan. After workarounds, trials and errors of possible solutions in the previous month, our teams decided to do a re-spec and rework on how to better offer a solution to better capacity planning and power management.
Thus, on this sprint, we are creating a new Farmerbot, which is an optional tool a farmer can run that manages capacity planning and power management. Its responsibilities include registering its endpoint on the chain, capacity management, and power management. This story is in development progress. More information about the three Farmerbot responsibilities will be provided soon in the next update.
Farming / Minting Report Feature
Each month, farmers receive TFT income in correspondence with the capacity they provide. Therefore, for transparency matter with our farmers, we would like to allow them to access clear information about the income they receive and how it is calculated by providing them with a farming report.
This report should be organized into several levels providing the following Monthy farming report, and historical farm report since the creation date.
NixOS VM Support
On this release, we are planning to support NixOS VM deployment on the TFGrid. NixOS is a Linux distribution built on top of the Nix package manager. It uses declarative configuration and allows reliable system upgrades. We are planning to implement both NixOS Full VM and MicroVM Deployment via TFGrid Playground.
Workload Pause Feature for Unfunded Deployment
We are Implementing a workload "pause" state feature for unfunded deployment. When a deployment wallet runs out of fund, this feature will pause the workload, instead of deleting it. This will give users the possibility to re-fund their wallet and reactivate their deployment, instead of redeploying / creating a new one.
TFConnect App - Backend Refactor
Some important backend changes have been implemented to improve the usability of TFConnect App, including: Upgrading its JS framework from Vue2 to Vue3, adding Typescript and Tailwind, code refactoring, Full kubernetes test deploy stack, and others.
Freeflow Twin on TF Playground
On the next release of TFGrid v3.8.1, we are working on making it possible for users to deploy their own Freeflow Twin via TFPlayground. FreeFlow Twin (formerly Uhuru) is a digital experience that presents alternatives to centralized social media, messenger, file storage, docs, web browser, and video conferencing. Feel free to check out FreeFlow Twin beta Webapp on https://demo.freeflow.life/ if you haven't done so. You can read a more in-depth article about Freeflow Twin on this forum post.
New WebWG Networking Tool
On the next release of TFGrid v3.8.1, we are planning to create a set of networking tools for use on the grid, which we will call "WebGW". The main idea is to create an application offering a variety of functions to the users. Nodes that have public configs will run a "server" binary, while users/hidden nodes run a "client" binary. This story is in development progress. More information will be provided soon in the next update.
What's Next?
Again, I would like to remind the community that this is a progress update highlight, and not a release note of TFGrid v3.8.1. Changes in priorities can happen within January 2023 as announced, thus the upcoming update on TFGrid v3.8.1 progress might differ from the content of this update.
Did not see the update you're looking for? Perhaps it's because we have mentioned them in ThreeFold Product Updates - December 2022..
We'd like to also invite you to join our TFGrid Tester Community telegram channel to meet other community members, test our products, receive new product updates and announcements, and start some conversations on our new improvements, and many more.
Love and Gratitude,
Sasha Astiadi
ThreeFold Product Management