Any idea who in the organisation may have it?
I am not sure, perhaps someone in the communication team?
@hannahcordes would you know how to get
an art package [that] could be distributed to make people creating material easier
Hi brother, there is already a category on the forum called ThreeFold Grid Utilization. I would recommend we focus on building out that section. Does it answer what you're talking about?
Hi all, I love this initiative and happy to support.
For the Nutrition Facts graphic, I think we can take elements of what @weynandkuijpers shared, and as far as graphically, I think we'd just need a black or white ThreeFold logo in order to keep it in that same style. Unless we're looking to create something entirely different?
As far as an art or branding kit to share with the community, we are making some shifts for the better when it comes to design. We should have something by the end of next week. cc: @Azores.crypto @FLnelson @Mik.
@Azores.crypto Will ping you on Telegram as well …
Hey, brother! Hope you're doing well.
I did see it before proposing this. My thought was to have a section with only ready to go instructions for the user side of the Grid, without any R&D, or community questions, so users do not get sidetracked when they look for Threefold Grid uses.
But it might not be necessary. We could work in this section, and perhaps add a sub-section, and move the official, 100% ready to use guide on the official Threefold documentation (which there are already amazing and ready to use guides in the section Threefold Grid Utilisation.)
Why I proposed this: I read on the Telegram channel that some users (not farmers) thought the Forum was very much focused on the Farming side of the Grid and they wanted to have more User/Utilization content in there. They got "lost" in the Forum when looking for Grid uses.
We could simply add a subsection: Threefold Grid Utilization Guides, and we could lead people there when they seek what can be done on the Grid, as users. We could simply compile there the already existing user guides, and add more as we go.
Let me know what you, and others!, think about this.
Have a good day. Let's New Internet.
I agree, I think this would be sufficient for now. Glad to know things are coming for the design side of Threefold. It's already great as is, can't wait to see where it's going!
Where could we find such black or white logo? I'll then share it to Daniel on the Telegram Channel.
Thanks!
Just to go on with my previous idea:
---
We could have a new section:
Threefold Use Cases
Then in there you have one FAQ for the users (instead of the FAQ for farmers) and also another post that would be a short synthesis of all that can be done on the Threefold Grid.
Then we'd have subsections like: CapRover, Wordpress, etc.
I hope I'm being clear @gosam . I don't want to push this. I'm just thinking: How can somebody, who wants to deploy on the Grid but knows nothing about it, use the Grid efficiently with the minimum knowledge needed, all this without getting lost in the posts relating to developing the Grid, instead of using it.
Exactly what we need to make it human, and more investor friendly!
Hello guys, two things
The logo PSD please
Black and white could do, until the new branding comes alive
.
Lastly
TFT nutrition facts
What would be the tag line?
Imagine my situation. People come to the roastery. Crypto staff around
Payment section, it's where everyone will see this
Many, if not all, have not clue about newer cryptos.
What will we writte in that tag, si they can interested and listen to me taking?
Threefold Nutrition Facts - The People's Internet
TFT, utility token, real world applications.
TFT, the resource of the Internet
Threefold: compute, storage, network and more!
---
Just some tag line ideas!
Thanks. I will spin my thoughts around.
Please point me there.
Thanks
We look forward to that!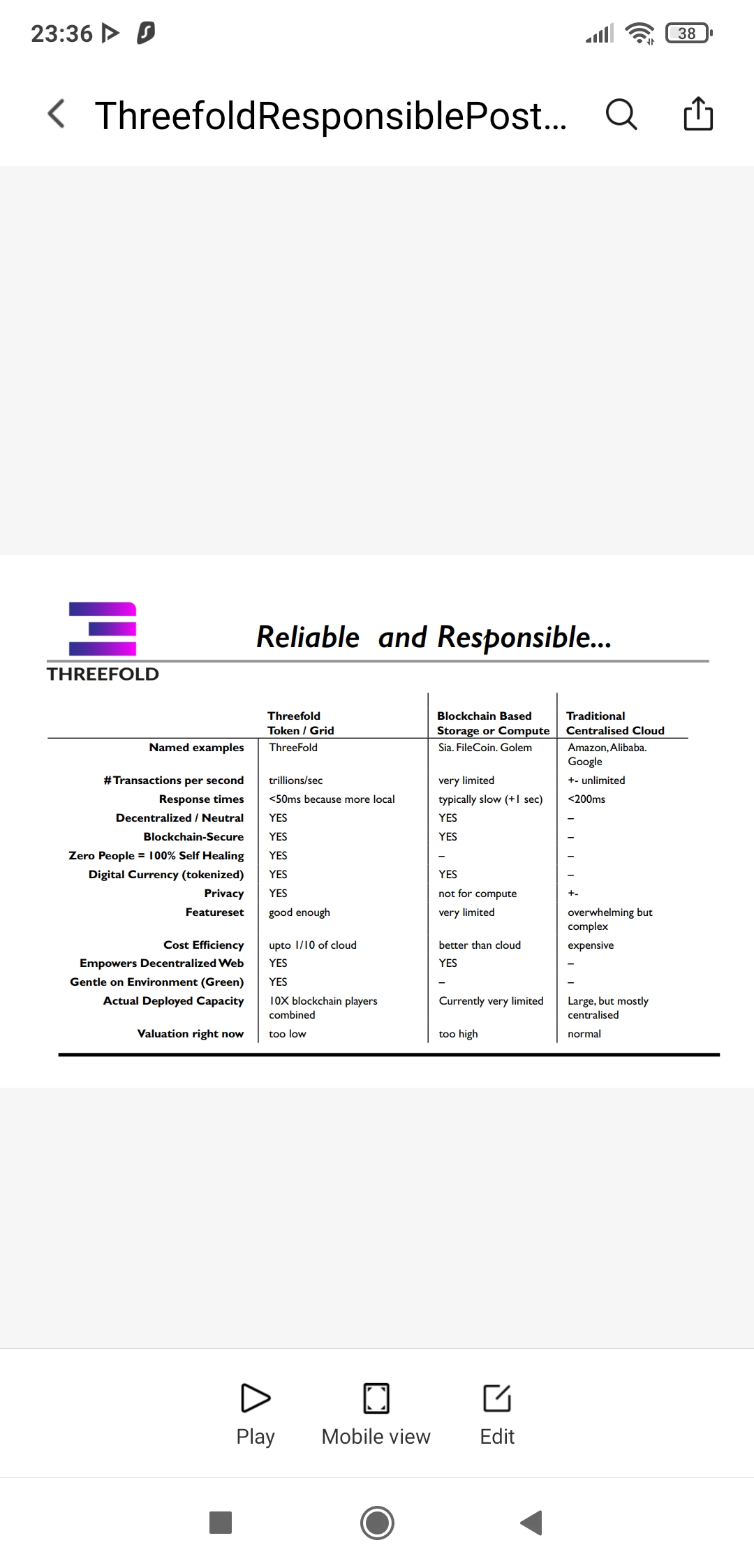 First draft to be put over the titan Infront of the payment section of the roastery… Every one will see it!
Feedback please
Peace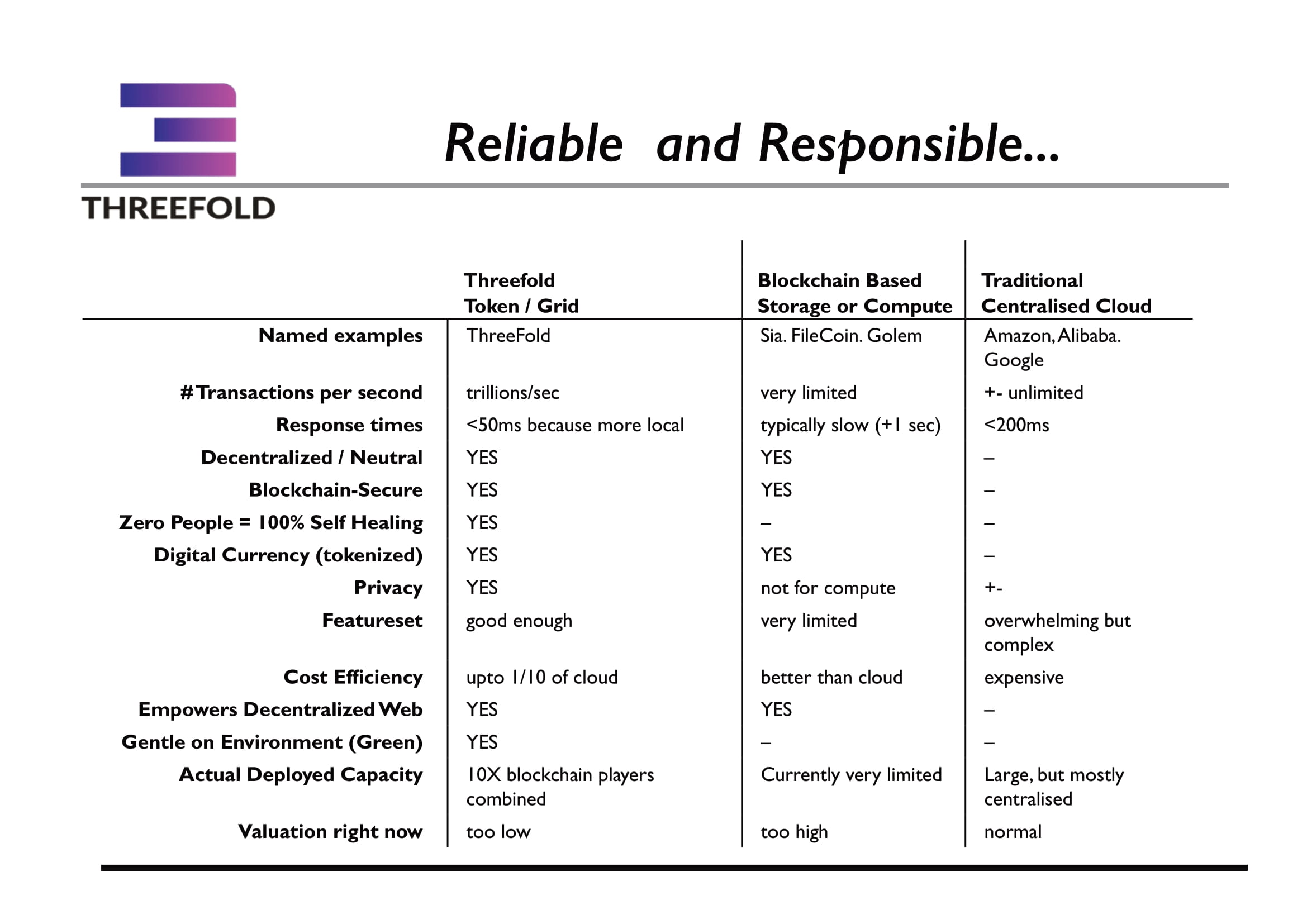 Hopefullly now we have it in a scale people can see!
Besides ofthe Nutrition facts, we need a cool tag line
Peoples internet sounds toooo much from the China comunist party.
In any case, feedback is appreciated
Thanks
Daniel
PS: where we have - its possible to writte NO?
That's great.
I must say I also like the idea of having on Nutrition Facts that is focused solely on Threefold. This picture above is great but it takes some time to read and it has a lot of information. A version that focus on Threefold could be easier to share and read.
Just a thought.
The solely Threefold version could state
Internet Contract
Storage
Network
Compute
DAPPS
100% Self Healing
Digital Currency (tokenized)
Carbon negative
Privacy
Cost Efficiency
Blockchain Secure
Proof-of-capacity
Proof-of-stake
Proof-of-utilization
---
Excellent project.
Hello Mik,
We can certainly re do it like that.
I just wanted to be sure normal people can understand why this project is better and why is a great idea to chip in
If we take this as you mention, the tag line next to the Nutrition Facts must be SHORT nd to the point
There is where i have the problem
Must be resume and eye catching.
Meanwhile theyare paying i can digg into every point…and make case on why people should look into the project.
2 or tree words gents
What thye would be??
Gracias for chipping in
Hello there
Yes it does, im reading and looking into the deep dives. These answer many things!
Cheers
Daniel
Everywhere
Energy efficient
Simple to use.
Those are really good. It makes me think of this youtube video from Threefold:
A New Internet for Everyone. By Everyone. Everywhere.
---
This line on top with the logo on top left, the "nutritional facts" under and the name Threefold.io in letters at the bottom, what do you guys think, @Azores.crypto @azores? Here's a sketch/basic idea:
---
---
"Threefold_LOGO +
A New Internet for Everyone. By Everyone. Everywhere.
Nutritional Facts
Storage
Network
Compute
100% Self-Healing
Internet Contract
DAPPS
Digital Currency
Privacy
Carbon Negative
Proof-of-Stake
---
---
There were go.
It start to resonate better in every shot!
Will present something soon!