The ThreeFold team has been working hard and will be launching the new and improved 3.0 wallet in the TF Connect app soon.
TFChain wallet
We have created a Blockchain based on Parity Substrate which manages the ThreeFold Grid 3.x. This Blockchain is called the TFChain.
Wallet 3.0 will include a TFChain wallet in addition to the Stellar wallet that is already integrated in the app.
The ThreeFold Connect app will automatically generate a new TFChain wallet address for you. Details of this wallet (wallet name, address and secret) can be found under the information tab of the wallet section in your app. An existing TFChain wallet which was already created in the portal can be imported by clicking on the import button in the wallet tab of the app and filling in your TFChain private key.
Bridge
To send tokens from your wallet on the Stellar blockchain to your wallet on the TFChain blockchain, you will be able to use the bridge which is integrated in the TF Connect App. For now, this is a one-way bridge. In a later phase, bridging from TFChain to Stellar will also be added to the app.
Wallet overview
Main overview
In the main overview, you can find your TF Connect wallet sections with a list of the wallets with assets and amounts. Clicking any of those wallet sections will give more details.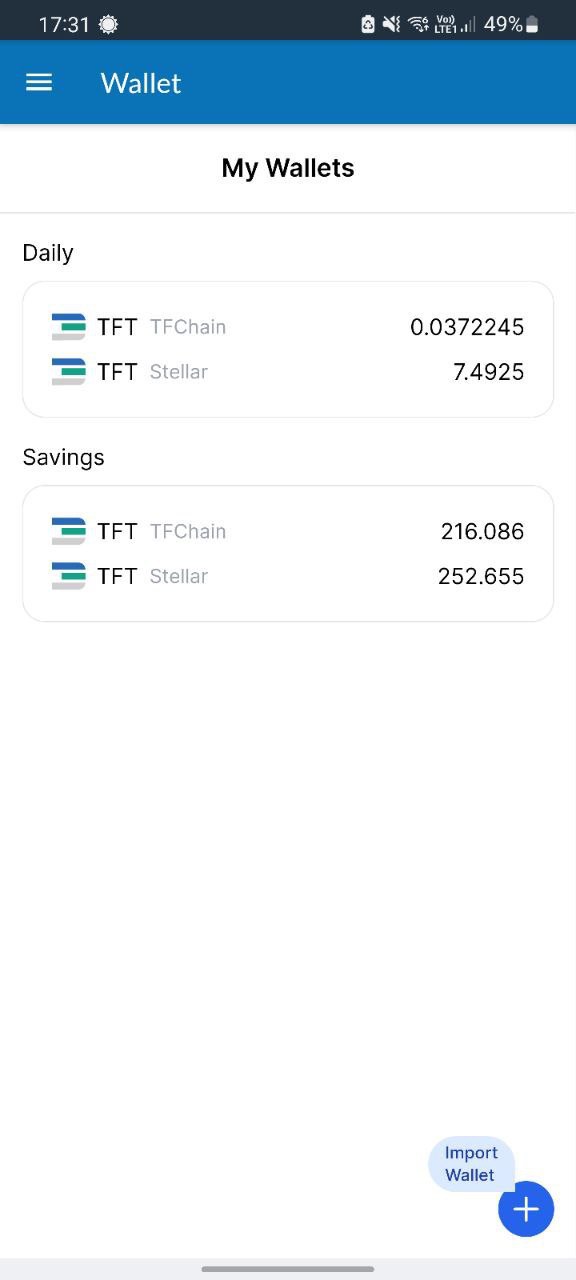 Details
The wallet details are split up into three windows.
Asset overview: List of all the assets on this section, with the label of the blockchain it resides on (TFChain or Stellar). You can also send and receive tokens in this overview, and bridge TFTs from Stellar to the TFChain.


Transactions: A list of all transactions of your wallets on the Stellar blockchain. The transaction history for the TFChain will be added in a later release of the TF Connect app.


Information: the details of your specific wallet. Here you can find the Stellar and TFChain address, as well as the secrets (private keys) to those wallets. Please make sure to never communicate the private keys to anyone, not even members of the ThreeFold Team. You can also change your wallet section name in this window.

If you have any questions about this wallet upgrade, please reach out to our support team on the live chat in the TF Connect app or on our website www.threefold.io.
All the best,
The TF Team