Please note: these instructions cover v2 farm creation. We strongly recommend all new farmers start on Grid v3, using these instructions, because support for all v2 tooling has been discontinued.
We are pleased to announce the release of a new tool for farm setup on the ThreeFold Grid. It will no longer be necessary to use a 3Bot for farm creation, saving new farmers from needing to obtain TFT and go through the 3Bot deployment process. Yay!
First, open the gofarmer page on Github. There are releases for Windows, MacOS, and Linux. Download the appropriate archive:
Windows - gofarmer.exe.zip
MacOS - gofarmer-1.0-a4-osx.zip
Linux - gofarmer.tar.gz.
Extract the archive and, if necessary drill down the directory structure to find the executable.
After launching the tool, you'll see: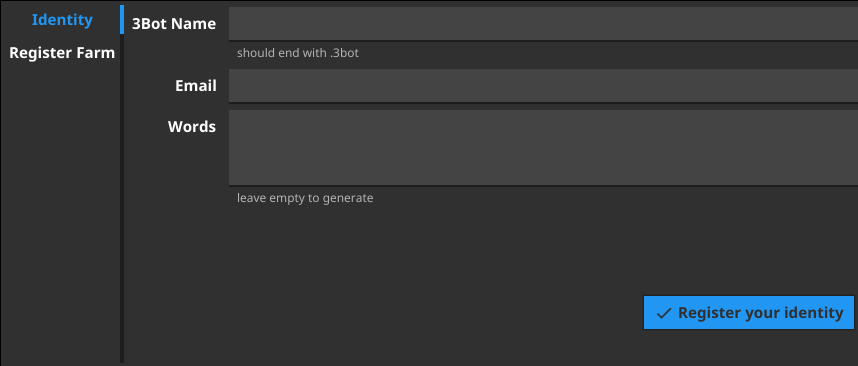 In this case, we'll need to create a new 3Bot id for our farm. It isn't possible to reuse the 3Bot id from the ThreeFold Connect app. Enter a 3Bot name, ending with '.3bot' and also your email address. Leave the words field empty to generate.
Hit register, and you should see a note that the new id has been saved locally. It is best to record the words generated, along with the id and email address you used, in a secure place. A password manager or paper copy would be appropriate.

Next go to the register farm tab. Choose a name for your farm and enter the Stellar wallet address where you want to receive farmed tokens. Using the wallet address from your TF Connect app is a good idea here. If you use another wallet, please be sure that you have a trust line for TFT established.
Hit the button to register your farm. If all goes well, you'll see that your farm was registered successfully. Take a note of your farm id, as it's needed for generating the boot image for your nodes: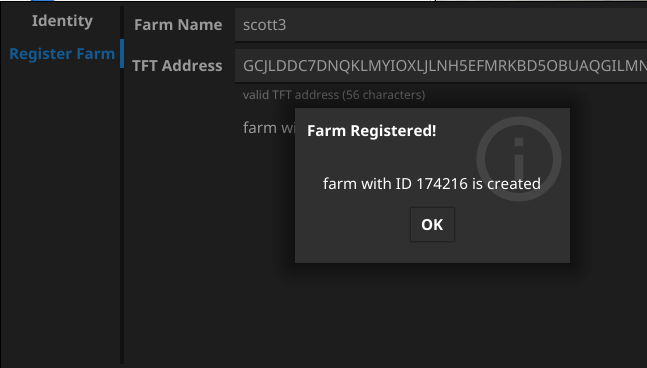 It is possible to recover your farm id later using only the farm name. The interface is a little technical, at the explorer API. Hit 'Try it out', enter your farm name, and then 'Execute'. You'll see the id in the response.
Did it work for you? Have any questions? Drop a reply below