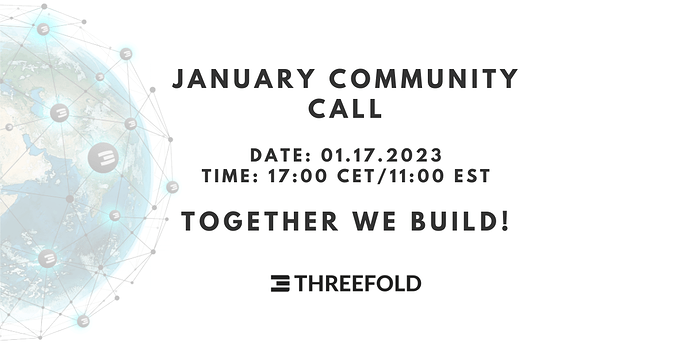 Hi everyone!
I hope you all had great holidays and are back ready to take on 2023 together!

Monthly Meet-Ups
It is already time to plan our next meet-ups! As of next week and for the foreseeable future, we will be holding recurring monthly Community Calls.
When: Every third Tuesday of the month
Time: 17:00 CET / 11:00 EST
Where: Community Call Zoom Link
The goal is to have regular flows of information towards the community and have the opportunity to hear your questions and feedback. Calls about more specific topics might also arise and will be announced on the forum accordingly.
January Community Call
This month's Community Call will be held on Tuesday January 17th at 17:00 CET / 11:00 EST. We will be answering questions from the community highlighted in this forum post, as well as sharing some information about a new project in the works for which we would love to hear your feedback: the ThreeFold Commercial Grid Services. You can find a short sneak-peak in this post from Sam to get an initial idea of what it is.
Looking forward to seeing you next week!
Cheers!