I wanted to put together a more thought out and easy to digest version of how to setup your 3 node as a public gateway node and be able to supply public ip addresses on the grid.
At this time, you have to have access to a public ip block from your isp. This guide is going to assume you have one and it is co figured correctly.
Video Tutorial

-Setting up your node-
you need to have two network ports connected to function in this capacity. Your first network port needs to have access to your private subnet by dhcp and will serve zos. Your second Network interface will handle the public gateway workload so this should be your fastest connection and it will need access to your private subnet by dhcp, and the ability to access your public subnet via static device configuration.
-Configuring your node as a public gateway-
Setting your node up as a public gateway allows your node to help support network capacity it will serve as an access point to both wiregaurd and Yggdrasil while assisting in the forwarding of traffic. This is beneficial in itself even if you have few public ips or even only 1 available because your node becomes a integral part of the mesh network.
To do this you will go to dashboard.tfgrid.io and navigate to your farms page, for this you will be configuring an individual node within your farm. Find the node and click the globe to the far right, in this box you will enter your configuration details

Ipv4-this is public IP address you want your node to utilize for gateway functions. This will be one of the addresses from your public IP block. Proper format is the ip in cidr notation. Ex 162.205.240.131/25
Gateway 4/GW4- this is the default gateway for your public subnet proper format is just the IP address ex. 162.205.240.254
Ipv6-your nodes public ipv6 in cidr notations ex 2600:1700:c1e0:1150:f4d0:96ff:fec9:ecca/64
Gw6-your nodes ipv6 default gateway for the public ipv6 address ex. 2600:1700:c1e0:1150::1
Domain-a web domain that is pointed to the above public configurations with the following record configurations again using 3081 as an example
A: accelerator.tfcloud.us : 162.205.240.131
AAAA: accelerator.tfcloud.us : public ipv6
C_Name: *.accelerator.tfgrid.us
Ns record: _Acme-challenge.accelerator.tfcloud.us
-Making public ips available for use on the grid-
Once you have a node configured as a gateway it also gains the ability to offer additional ips in your public block for deployment, to add these options you will go to the farms page, and expand your farm and navigate to the public ip menu->add ip.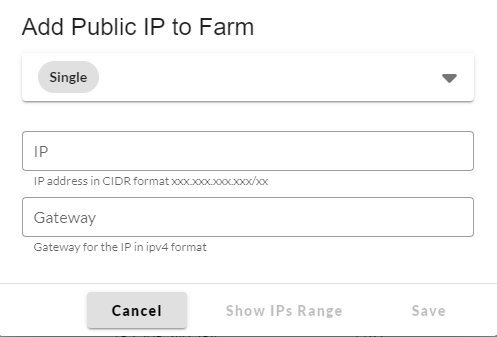 You will then have 2 options
Add a single ip or a range of ips, these will be ips that will be attached to deployed vms, so they will become dedicated to the grid at registration, but only used when deployed.
You will need to enter the available IP address in cidr format ex. 162.205.240.131/25 followed by the gateway as just the ip ex 162.205.240.254
Will be doing a few more posts in this thread to follow to detail setting up a domain and going into more detail for the more visual Learners this is my network map and how I document my public configurations.
-3081, the example addresses above, is offline