To start this is going to be a long project, and there is going to be lots of episodes but the intent is to create a series of guides that would allow the average user to go from a standard network all the way to a 5 public node configuration on ATT fiber. This is a functional exercise for education, testing and development on the threefold network for your own personal gain. Over all Intend to the cover the topics installing or modifying ethernet drops, pulling wire, configuring a bgw-320 to cascade into a multi gig router both with a home built multi gig deployment running open source software and a less advanced version using a commercially available option if I can get ahold of one (I'm a broke paramedic, shits expensive). This will be applicable to the ATT 1 gigabit connections with a BGW -320, all 2 gigabit connections and the 5 gigabit connections, this guide is not applicable to the older ATT fiber gateways with 2 separate devices. I might work similarly but its untested. I am not a professional, I'm a paramedic, and I take no responsibility for anything that happens to your devices.
First drop is going to be configuring the bgw-320, I love this thing and I hate this thing. It actually performs this role extremely well, but as a home gateway its trash. The first thing your going to need to do is call ATT and get a public address block. If you have trouble with this PM me and I can help you with it. Sometimes its hard to get to the right people from the residential side.
For this setup you will need to request an 8 address block, this gives you 5 usable addresses, the others go to network functions. Make sure you get all of this information, I didn't know what I was doing the first time and had to call 3 times to ask for more info
|Default Gateway|
|CIDR notation|
|Public Subnet mask| THIS IS THE "TABLE"
|DHCPv4 Start address|
|DHCPv4 end address|
Once you have this information and your ATT BGW-320 is operating normally, access the configuration page that by default is at 192.168.1.254.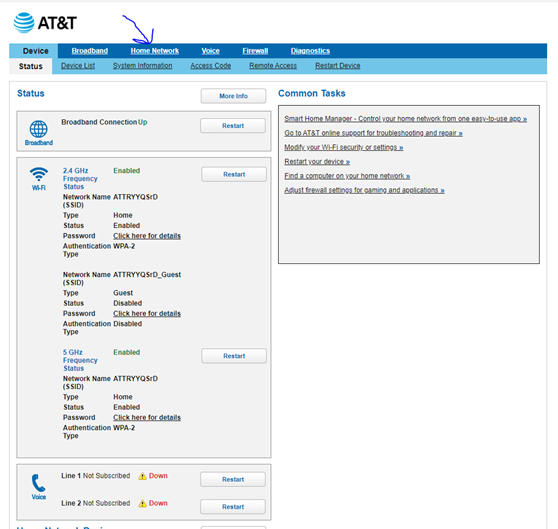 Your going to land on this page, you will need to select home network denoted by the blue arrow in the image directly above.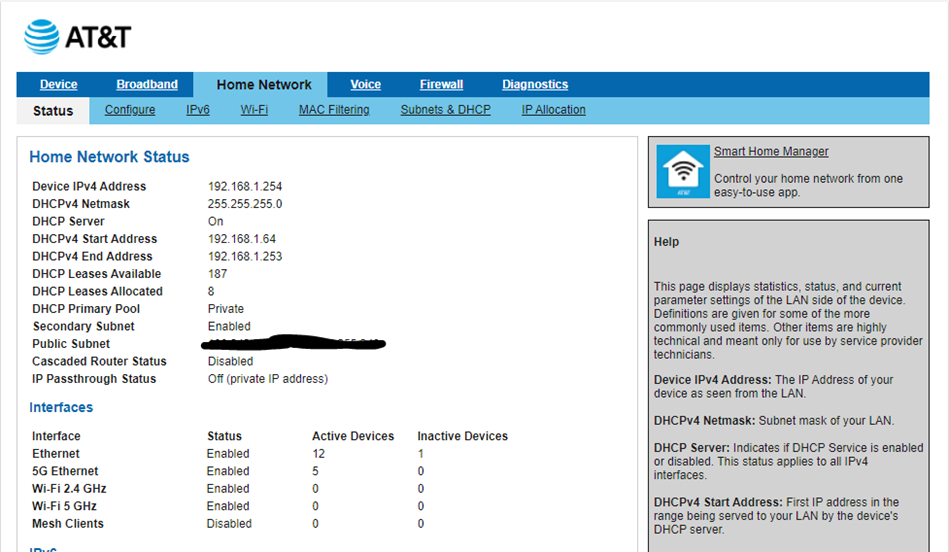 You will land here and select "subnets & dhcp" within the baby blue header.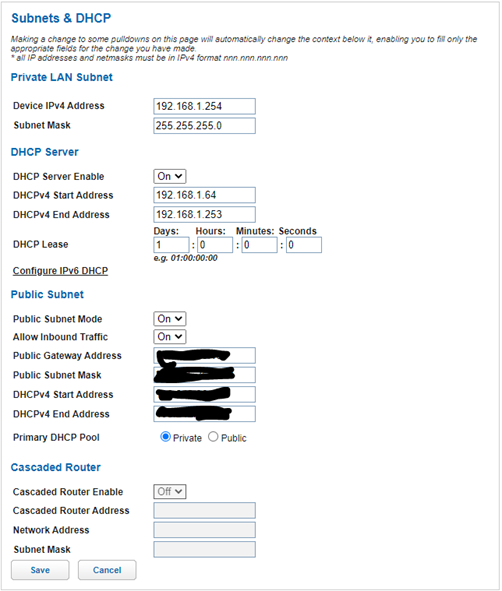 this is the page you will be modifying
--------------------------------------------1 gigabit connections-----------------------------------------------------------------
Were going to make a quick stop here for the 1gigabit family, all you need to do is under the blue "Public subnet" header fill in the information you put in the table above when you called att and used the table to notate the information they for some reason "cant email", anyways.
Set public subnet mode to On
Set allow inbound traffic to Yes
Set public gateway address to the public gateway address from the TABLE
Set public subnet to public subnet from the TABLE
Set DHCPv4 Addresses to the DHCPv4 addresses from the TABLE
Set primary DHCP to PRIVATE
always save before changing pages!
We now need to navigate to firewall in the dark blue header.


And then to packet filter in the baby blue header (under firewall in the dark blue header) notated with a black circle in the image directly above.


Click disable packet filter, it will look like this when you have completed the step
always save before changing pages!
Next were going to navigate to the "firewall advanced tab to the right of "packet Filter" in the baby blue tab, under firewall in the dark blue tab, notated by a black circle in the image below.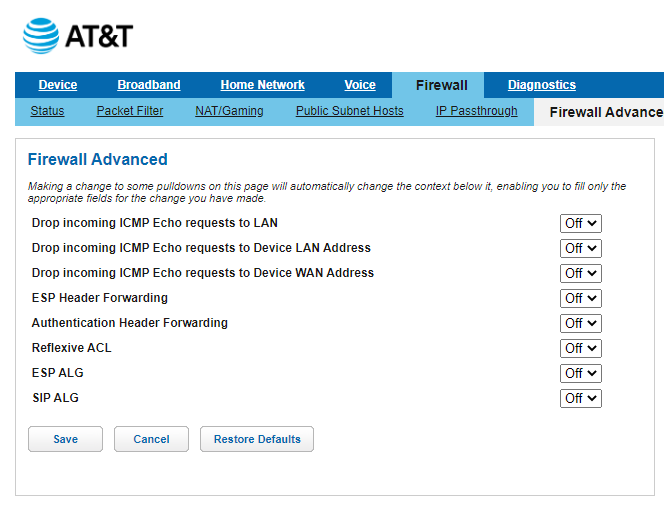 you will be modifying this page, set everything to off, always save before changing pages!
Once you save this configuration any threefold node you plug into the ethernet ports on the back of the bgw-320 either directly or through a switch will be able to function as a gateway with the proper blockchain configuration. Any devices connecting through dhcp will be on a private subnet with your gateways ip as their public.
Though because of the firewall rule changes I would suggest placing another router behind your bgw-320.
If you don't need a public address for your HOME router, its pretty plug and play, just run a ethernet cable from the back of the BGW-320 placing it in a blue or gray jack (don't touch red), to your router WAN jack, it is normally a different color, often separated from the others. This configuration leaves you 5 public IP addresses for nodes, but may behave strangely at times, Specifically when running Yggdrasil on a client behind the router,
If you need a public address on your router and like it behaving well.
------------------------------1 gig connections, back to public safety, to be expanded---------------------------------
place a router behind the BGW-320, let it grab a private ip from the bgw-320 automatically (just plug in power then ethernet to a lan port on the BGW-320 (blue and gray ports) to the WAN port of the router it is normally a different color, often separated from the others, now wait most will do their thing)
Find the mac address of the router you are going to use for your home devices, notate it somewhere and label it "home mac" ( this is what a mac address looks like fe:dc:a0:5f:81:8d)
always save before changing pages!
To the right of the subnets & dhcp in the baby blue header you will find ip allocations.

If you've been clicking around, its under home networks in the dark blue tab.


this is what you will be modifying.
Find the record of your routers mac address that is powered on and has an ethernet cable attached from your HOME routers WAN (usually a different color and/or buy itself) port, to a LAN port on the BGW-320 (blue or gray, Don't touch the red one)
Find your HOME ROUTER mac address in the notated column above with a black arrow and click the allocate button in the same row to its right as notated with a black circle in the image directly above. your public addresses are at the bottom of the list. my list has none and id have to break things to get them back, but they will be there, this is what the page looks like after clicking allocate, scroll to the bottom and choose and address NOT to be used for a 3node.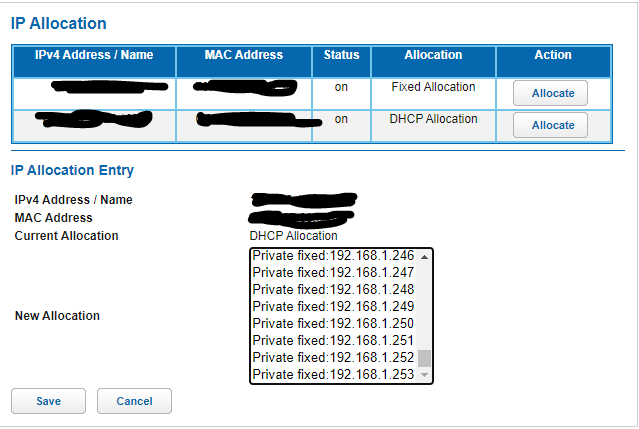 all devices attached to this router will have private IP addresses with the router being public as things traditionally are in a home setup, you should be able to do this without reconfiguring your settings on the home router if its currenlty set to dhcp on wan.
RESTART HOME ROUTER
It should now have a public IP address and you can configure it to protect your home devices as necessary. Notably if you are running a helium node it should be connected to the this router with port forwarding of 44158 to its private address to function properly. More on that to come.
Each 3 node should have a ethernet cable plugged into a blue or gray jack in the back of the BGW-320, if the node has a multi gig card a 1 gigabit fiber connection will provide 1200-1300 mb/s and will benefit from the multi gig adapter being plugged into the BLUE port on the BGW-320.
-----------------------------update break 5/8 2000-------------------------------------------------------------------------------
Block Chain Public node Configuration (substrate and portal)
Next update, Configuring ASUS and OpenWrt routers behind the BGW-320 to support helium.
Multi gig BGW-320 cascaded router setup
Building a 6 port 5gbe router for under 500$
Bridging local Yggdrasil public peers with the threefold network
Building a 50$ Yggdrasil public node.
Videos? do we need videos?